In the first part of this new series, Kamasan Starlets star and Sensas canal connoisseur Darran Bickerton reveals his short-swim secrets…
The swim that I'm going to talk about today is ignored by 90 per cent of canal anglers. It is based around fishing a short pole swim on and around the near slope of a canal.
Most narrow canals have a very similar cross section. They start off very shallow next to the near bank, perhaps where there's normally a little flat shelf. As you move out, normally just a few feet, this starts to get deeper, and there's a steady slope away until the canal reaches full depth in the central boat track. It is fishing in this area of the canal that I want to focus on today.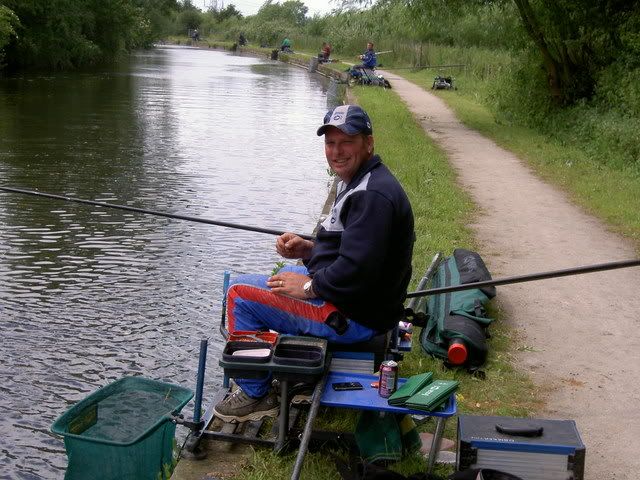 Why And When?
I normally like to target this near slope area of a canal at the beginning of a match. It's often a great starting point to simply put a few fish in the net while all your other lines settle. Fishing here also gives you time to loose feed other swims, and build them up during the important early stages of a match.
This near slope is also a natural fish-holding area. Today, there is quite a lot of weed close in, and this finishes around two metres out due to passing boat traffic and where the water becomes too murky for it to grow. However, it also offers a lot of cover and a food source for fish. Any pegs with weed growing close in are bankers for the short swim.
Even on pegs where there isn't any cover, you can still catch on this short swim. The slope itself is a key feature, and especially when you get a lot of boat traffic, fish will push into this swim to get out of the main track.
>>> Daiwa Pole Fishing Masters
Where To Fish?
I believe that the perfect place to fish is just up the near slope. To find this area, I simply put a plummet on and aim to find the deepest part of the canal.
Starting just a metre or so out, I gradually work my way out. Today, I've started on a top kit where I'm still picking up bits of weed, and I can feel my plummet dropping through weed here. Further out, however, the canal starts to get deeper, and even after adding my No4 section and shipping to the end of it, the canal still seems to be sloping away. Adding my No5 section and shipping just on to this, the canal suddenly becomes flat. This is where I've reached the deepest central track.
Ideally, I want to come back a little so that I'm just out of this, coming up the slope by about 10 inches. Taking off my No5 section and fishing with my top kit plus one section is perfect today. Coming up the slope means you're out of the way of most boats, and also fishing on a nice clean slope. You sometimes get a lot of twigs, bags and rubbish at the very base of the slope on the flat bottom.
Target Species
My target species on this line are generally small fish, but it does vary depending on the venue. Normally, though, small roach, skimmers, hybrids and perch are the target.
On some canals, gudgeon are very common too, and you can catch a lot of them very quickly on this swim. You can catch an odd bonus fish here too – chunky perch often hang around nearside weeds, and I've even caught big bream on this swim.
Feeding
With small fish being my main target, I like to feed this swim with some groundbait. My mix is Sensas Lake and Black Roach. I generally mix together half a bag of each for a session, which makes a very fine, dark mix, and gives me enough mix to feed on other swims too.
To kick off the swim, I feed just two small tangerine-sized balls, containing a handful of squatts and pinkies. This may not seem like a lot of bait, but all that I'm aiming to do is create a small area on the bottom to draw the fish to that I can fish over. By feeding a little bit of bait as I've explained to begin with, I'm giving myself the best chance of catching the fish that are in the area.
Once I start fishing on this swim, I'll begin loose feeding a few squatts and pinkies over the top by hand. I like to do this quite regularly, every time that I ship out and place my rig in the water, with just a dozen squatts and four or five pinkies. It's quite finesse fishing, but like before I want this loose feed to simply draw in a few extra fish, and keep the ones in the area grubbing around.
>>> Do you want a Pellet Basket?
Easy Shipping
A key trick when fishing the short swim is to use a long line between the float and pole tip. Today the swim is only just over four feet deep, but I've made my rig the full length of a top-three kit. This means that I have around four and a half feet of line between my float and pole tip. This helps me in several ways.
Firstly, it allows me to work my rig over the groundbait easily when the canal is towing. It's very much like fishing on a river when this happens, and having the extra length of line lets me run the rig in a straight line over the feed area, also searching the swim well. Sometimes, you can catch fish below the groundbait where some of the loose feed has landed from when the canal has been towing.
Secondly, the long line helps me swing fish straight to hand without breaking down. Even when fishing on a top four as I am today, I can pull the pole back just half a section, lift up, and fish will come straight to me.
When aiming to catch quickly at the start of the session to make the most of this swim, this helps you get into a smooth rhythm and saves valuable seconds.
Rig Presentation
Presenting the rig basically means how you introduce your rig into the swim. I have two different ways of doing this on the short swim, depending on how good the fishing is.
If I'm catching really well, I will ship out, and lift the pole up until my bulk swings directly under the pole tip over the top of the baited area. I will then quickly lower the rig down, just keeping in touch with the bulk to avoid tangles. As I nearly reach the water with the float, I simply drop it in, helping it break the surface tension and set quickly. This way of presenting the rig is great when using rig No2 to catch small fish quickly.
It's a great way to start a session, and on many occasions I've caught double-figure nets of fish by fishing just this one swim all day.
On more difficult days, or when targeting slightly bigger fish like roach and skimmers, I like to lay the rig out on the water allowing the rig to drop in and settle slowly. You need to gauge this so that the hook bait drops down right on top of the feed. By holding tight to the float as the rig falls, you will slow down the drop of the bait down even more, which is a great way of fooling wary quality fish.
You also need to be aware of the canal towing when introducing your rig. If you try and put it right on top of your groundbait when it's towing, your rig will be downstream of the feed area before it has settled. To combat this, I simply have a glance down at the canal as I'm shipping out to see if it is moving. If so, you will see bubbles and bits on the surface moving, and you can gauge where you place your rig. I always put it well 'upstream' of the baited are so that it settles above it, and I can run the rig down over the feed area.
Tricks Of The Trade
Although I've described this swim as a great way to start a session, you can sometimes catch fish here for the duration of a match. On many occasions I've caught doublefigure nets of fish by fishing just this one swim all day.
The key is to keep feeding it with small amounts of squatts and pinkies throughout the day, and in any quiet spells have a drop in and catch a few fish. It's great for putting a few fish in the net after a spell of boats, or when you feel you need to rest another swim.
Often, I'll drop in on this short swim and put a run of fish in the net while I feed my longer squatt or caster swims for a while. If you feel the swim is dying, don't be afraid to cup in a small ball of groundbait with squatts and pinkies in to give the swim a boost.
My short swim is a simple way to start a canal match and highly effective. On many occasions it's the extra 1lb or so of fish caught from this often ignored area of your swim that can win you the match!